Lesson 5: Who Needs an IP Strategy?
An IP Strategy is Relevant to all Businesses and All Industries
A common misconception is that an IP strategy is not relevant to all businesses and is only vital to businesses operating within certain spheres, such as technology and pharmaceuticals. In fact, adopting a considered IP strategy is now becoming more commonplace and necessary in a wide variety of industries and businesses.
In the entertainment sector, for example, the use of different forms of IP to strategic advantage has become increasingly important.
EXAMPLE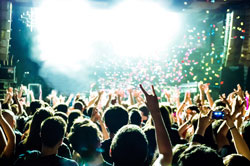 One specific example of this is the approach adopted by the internationally renowned US pop singer/songwriter Taylor Swift, who Forbes magazine has listed as one of the most influential women in the world.
Swift has cast a wide net in terms of trying to maximize her return on her various IP assets.
HOW DID SHE DO THAT?
In addition to relying on copyright protection, the most common form of protection for musical works, Swift uses trademark law to protect her name and some of the titles and lyrics of her popular songs.

In October 2014, Swift filed a number of trademark applications in the United States for specific song titles and words or phrases from some of her songs used in association with a number of goods and services.

The intent of these trademark applications is to capitalize on the sale of her merchandise in consumer markets and to deter possible infringement of her lyrics and song titles on third-party consumer merchandise.

Since song titles are not generally protected by copyright law, she turned to another form of IP, namely trademarks, to offer a different kind of protection.

So long as the trademarked titles are used in association with the products and services for which they are registered, Swift will be able to stop competitors from using the same words in association with the same or confusingly similar products and services. The song titles will remain associated with her.

Swift has not only moved to protect her trademarks in the United States and other Western countries, but she has registered her name as a trademark in China in association with a variety of products and services.

In an effort to stop competitors from selling knock-off products under her name, she has also launched a clothing line targeted specifically at Chinese consumers. She is using an "authentication feature" that will allow customers to verify online whether they have purchased an authentic Taylor Swift product, as opposed to a knock-off.

However, there are at least three other registrations of her name in China that she does not own. Since China registers trademarks based on the first-to-file rather than the first-to-use system, competitors have monopolized her name in association with specific products, such as bathing suits. What this means from a practical perspective is that, despite being proactive in protecting her trademark rights, Swift still cannot fully capitalize on her brand. For example, she cannot sell bathing suits under her name in China.
TAYLOR SWIFT TRADEMARK APPLICATIONS
Song lyrics for which she has sought trademark protection include:
"Party like it's 1989," for use on retail services, online retail services, online ordering, promotional services, providing consumer information and facilitating the exchange of information.
"'Cause we never go out of style," for use on paper products, printed products, printed publications, stationery, temporary and removable tattoos, art supplies and writing instruments.

Last modified: Tuesday, 20 October 2020, 2:45 PM