Lesson 2: How Copyright Intersects with Other Forms of IP
HOW DO COPYRIGHT AND CONFIDENTIAL INFORMATION/TRADE SECRETS INTERSECT?
Unlike patent protection,
copyright protection is not dependent upon publication
(i.e., disclosing the work publicly). To the extent that a valuable commercial secret is committed to writing rather than to memory and is not publicly disclosed, the written document containing the confidential information/trade secret can be protected by both copyright law and by the law of confidential information/trade secrets. If the document is reproduced without permission, you could consider your options under both forms of IP.
EXAMPLE
A case in point is the Australian court decision in Interfirm Comparison (Australia) Pty. Ltd v. Law Society of New South Wales. The Interfirm Comparison company was in the business of developing confidential surveys and questionnaires for its clients. One prospective client was the Law Society of New South Wales, which wanted to survey its membership. In its bid for the contract with the Law Society, Interfirm Comparison provided the prospective client with a sample questionnaire, under conditions that suggested it was disclosing the sample in confidence. The Law Society gave a photocopy of the questionnaire to a third-party competitor. Interfirm Comparison sued for copyright infringement as well as for breach of confidentiality under the law of confidential information/trade secrets. It was successful on both counts.
Copyright
Confidential Information/
Trade Secrets

Copyright infringement requires that you show that the work was copied either exactly or in a substantially similar way. In addition, in countries that require "fixation

"

of the work, a physical manifestation of your creative expression must exist.

Confidential information/trade secrets law can capture verbal disclosures of the secret. Depending on the circumstances, copyright may not be broad enough to capture a verbal disclosure of confidential information/trade secrets.
Confidential information/trade secrets require that you prove that the person who disclosed was under an

"

obligation of confidence

"

toward you (i.e., that they promised, either expressly or impliedly, not to disclose your secret).

It is sometimes difficult to prove that there was an obligation of confidence on the person who disclosed. It may be easier to prove that your copyright work was copied without your permission since copyright law doesn't require that the copier be under any pre-existing obligation toward you.
HOW DO COPYRIGHT AND INDUSTRIAL DESIGNS INTERSECT?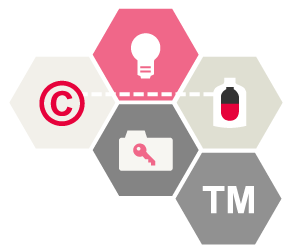 The intersection between copyright and industrial designs is similar to what we discussed in relation to patents and copyright. Industrial designs are often embodied in technical design drawings. These drawings could fall within copyright protection as artistic works. Since copyright law considers it to be an infringement to reproduce a two-dimensional work (the drawing) into a three-dimensional work (the article or object embodying the design), copyright protection could be an attractive option to consider. Copyright protection does not require registration and the length of protection is much greater.
However, in some jurisdictions, copyright protection over industrial designs may be barred in some circumstances.
EXAMPLE
In Canada, if Jack has made a technical drawing of the design of his product, he will have copyright in the drawing as an artistic work. However, once he mass-produces the product itself (in other words, he manufactures more than 50 products), he cannot use copyright in his drawing to stop Jill from buying his product, studying it and/or making and selling duplicate copies.
Any chance that Jack might have in stopping Jill would be through a registered industrial design.
HOW DO COPYRIGHT AND TRADEMARKS INTERSECT?
Where a trademark consists of a word and design or a design alone, the design has the potential to be considered an artistic work under copyright law.
The advantage of using copyright protection is that, unlike trademark infringement, copyright infringement does not require evidence of confusion or use in commerce. It requires you to prove that the artistic work was copied either exactly or in a substantially similar way.
Example: Kraft Canada

Kraft Canada is the trademark owner in Canada of a number of trademarks for European-produced chocolates. The trademarks consist of words as well as artistic drawings, for example, the drawing of a mountain in the Swiss Alps on the Toblerone chocolate bar package.
A Canadian importer was buying the same chocolates directly from the European manufacturers and selling them in competition with Kraft Canada. Under Canadian law at the time, it was not clear that Kraft Canada would be successful under trademark law. Instead, Kraft Canada used copyright law to stop the importer. It asserted that the artistic elements of the trademark were artistic works under the Copyright Act and that the importer infringed that copyright by importing a copyrighted work into the country without permission. In this way, Kraft Canada was ultimately able to stop the importer's activities.
Last modified: Wednesday, 21 October 2020, 1:20 PM