Who Needs an IP Strategy?
Developing IP strategies can be important even for industries that have traditionally not had to worry about IP. Even industries that have enjoyed long-standing market power are being disrupted by technology and IP.
Example
Take, for example, the limousine and taxi industry, which, for decades, had enjoyed a virtual monopoly on transportation services. Its business interests have been severely affected by new entrants such as Uber. Uber is a ride-sharing business that matches amateur drivers with customers using a smartphone application (app) that it developed and has protected by industrial designs and patents.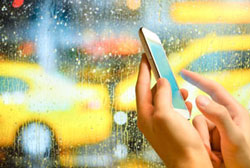 Since consumers are increasingly turning to apps to engage with service providers, Uber has managed to take a significant portion of the market share away from traditional transportation services, which have been slow to respond with their own apps.
This kind of innovation and reliance on IP protection is what all businesses need to be cognizant of so they can be proactive and not reactive.
Businesses should not be complacent and must always be on the lookout for what competitors might be doing, especially in terms of the development of new technologies and innovations.
Last modified: Wednesday, 30 September 2020, 3:47 PM