Case Study 3: Continued
IP Strategy: Enforcement
Deckers recognizes a variety of IP rights over its products and enforces them on multiple fronts, tailoring its legal claims to the specifics of the IP laws and practices in the different jurisdictions in which it seeks redress.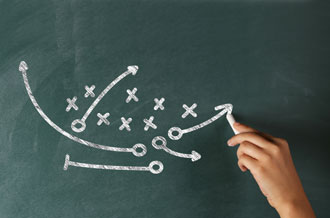 DECKERS
's

SUCCESs
Deckers has been successful in a number of trademark infringement lawsuits initiated against producers of knock-offs and counterfeiters in countries around the world. It has also enforced the shape of its boots under industrial design laws as well as under trademark law as trade dress.
Deckers has also aggressively pursued these infringers by shutting down their websites, both in the United States and China. For example, in 2014, it took down 17,000 websites through a variety of legal enforcement means. It also successfully sued 3,000 Chinese companies whose websites were selling counterfeit UGG products and was awarded damages of US$686 million by a US court.
Where it can, Deckers uses border enforcement procedures to prevent IP-infringing products from entering the market. In the United States and the United Kingdom, Deckers has actively engaged with customs agencies to educate agents to identify and seize fake UGG products. Its efforts have paid off.
In its enforcement strategy, Deckers leverages its various forms of IP differently, depending on the specific legal context operating in particular countries.
EXAMPLE
In 2011, more than 45,000 pairs of fake UGG boots were seized from shipping containers at a dock in England. That same year, Deckers was also able to convince Chinese authorities to seize more than 244,000 pairs of counterfeit UGG products.
Deckers is taking an active stand against counterfeiters globally, from seizure of product and broad investigations to take-downs of websites, tradeboards and auction sites. Because the success of each of our brands is built on the trust of our retail customers and consumers, we will continue to work with local and regional authorities to ensure that fake product is seized and destroyed.5
EXAMPLE
In 2009, Deckers successfully claimed copyright infringement in its registered trademark UGG Australia and sun design before the Federal Court of Australia. It was also successful in its assertion of trademark infringement and was therefore able to claim the advantages of both copyright law and trademark law in order to ensure that the infringers in question would be absolutely barred from producing knock-offs that reproduced the UGG brand design. The copyright infringement claim was undoubtedly made because there was a chance that Deckers's registered trademarks would be challenged and declared invalid because of the particular circumstances in Australia relating to generic ugg boots.
In other words, because of a specific jurisdictional context that made it vulnerable on the trademark side, Deckers leveraged an alternate form of IP, namely copyright, to bolster its chances of success against a competitor that was using a confusing version of Deckers's trademark to mislead consumers.
EDUCATION AS A PREVENTIVE IP STRATEGY
The second pillar of Deckers's overall IP strategy is preventive in nature. It relates to educating its customers to distinguish authentic UGG products from fake ones. It has an active educational program on its website and through Facebook.
The UGG® brand is committed to protecting shoppers from purchasing counterfeit UGG® products that are being sold as genuine. In addition to supporting consumer education and providing easy-to-access verification tools, the brand continues to work with worldwide customs authorities and law enforcement agencies to find and stop the shipment and sale of counterfeit goods.

The newly created UGG® counterfeit Facebook page features videos and photos that help consumers identify counterfeit product and alert them to popular scams. In addition, the brand also answers questions from customers and offers support with identifying sites as counterfeit or genuine.6
Last modified: Tuesday, 11 January 2022, 3:11 PM